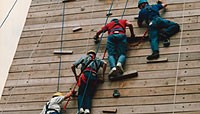 Inglewood Community Church (ICC) has a number of ministries within our church. The links featured  are some of these ministries that work together to help us reach our goal of bringing Christ to the world.
The "RTC (Raising Them Chaste)" link will give you specific information on our children's services at CCCF.
The "OFFC (On Fire For Christ)" link will take you to information on our Jr. High, High School, and College groups.
Our Angelic Arts ministry is dedicated to praise and worship plus dramas for adults, youth, and children.
"WOW (Women of Wisdom)" is our women's ministry.
"PUMPED (Powerful United Men of Praise Eternally Devoted)" is our men's ministry at CCCF.
Rekindled is our senior's ministry. Its focus is to create opportunities for our seniors to meet and sharpen each other through Christ-Centered activities.
WAR (Word Assisted Recovery) is our recovery based outreach ministry. It teaches men and women how to live victoriously by utilizing a proven Biblical 12-step model.
Family-Focus are our small home groups of people meeting in member's homes and having a great time while learning and growing in Christ together.
The "BOS (Being of Service)" link will give church members contact information on some of the ministries within CCCF for those who would like to serve.
Prayer is a page which is updated monthly with helpful prayer directives from our Pastors for those who call Christ-Centered Community Fellowship their home.  It is an opportunity for our church to pray together!